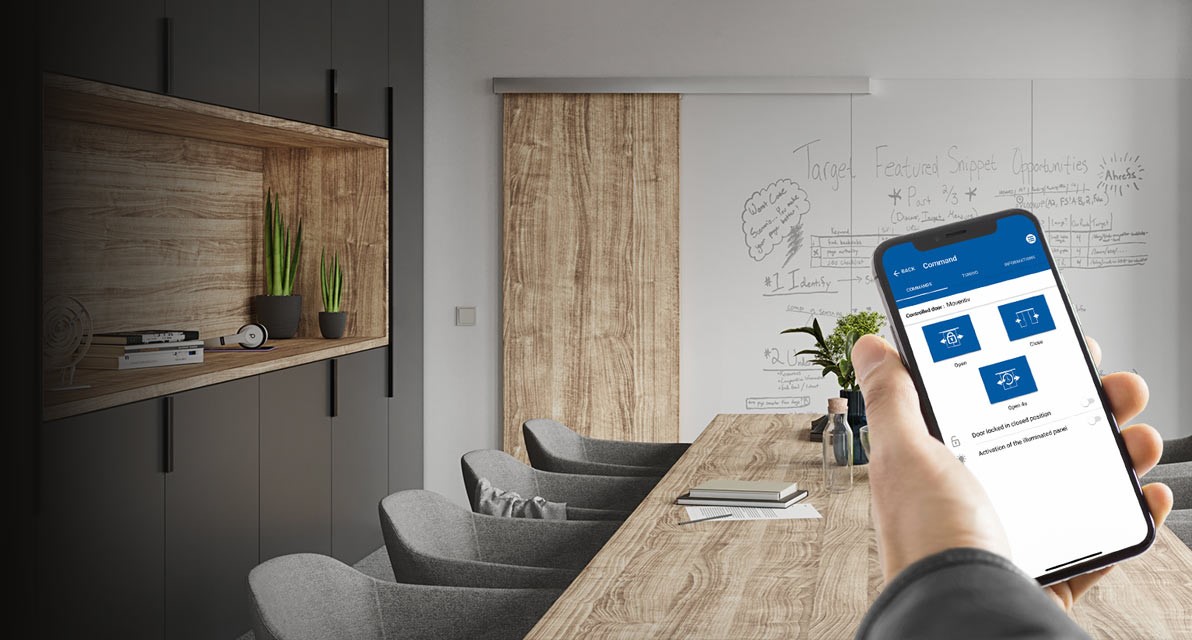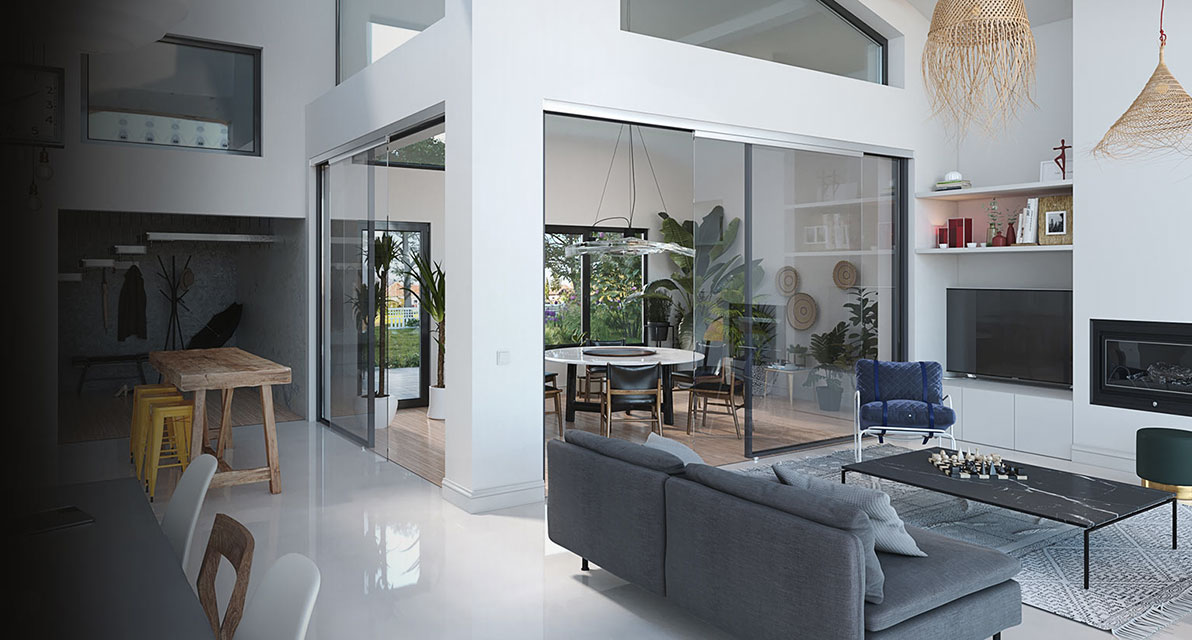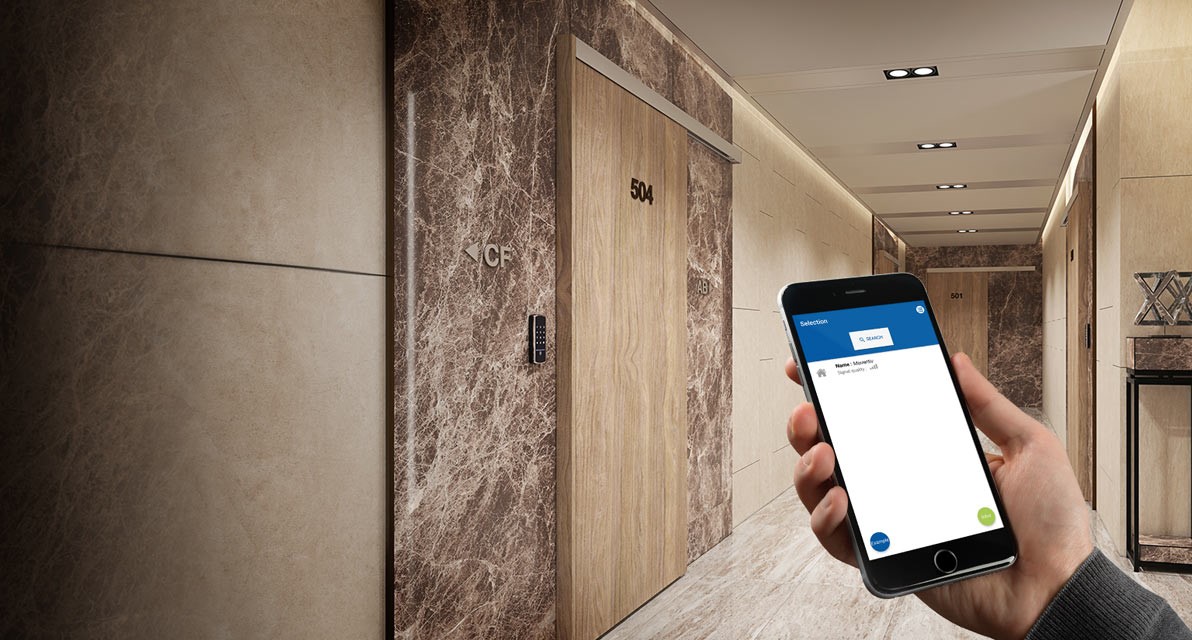 New

Discover our new touchless motorized system for sliding doors: Moventiv® is an innovative, ultra-quiet, high-performance technology that can be controlled remotely via a smartphone proprietary application and with a wide range of accessories.
Get your MOVENTIV® set from 1 600€ EXCL.!
MOVENTIV® 80: CONNECTED MOTORIZATION
Its outstanding performance guarantees 500,000 cycles or 5 years without maintenance. All the steps have been simplified, from installation to maintenance and control, thanks to a dedicated smartphone application and a wide range of accessories. Moventiv® is adaptable to all your projects and offers a comfort you can't live without.
> Buy these products
HARMONIOUS BLEND OF TECHNOLOGY
L2M connected motor with magnetic field drive: ultra silent, incredibly efficient, well Designed and touchless.
EASY TO INSTALL
Pre-assembled track and Plug and Play function: 2 benefits that make all the difference for an easy and quick assembly.
EASY TO USE
Allowing for customized daily management of your locking system, Moventiv® offers a wide range of accessories, all controlled by the application.
EASY TO CARE FOR
Simplified maintenance thanks to information available in the application. Excellent reliability and low maintenance thanks to the contactless motor.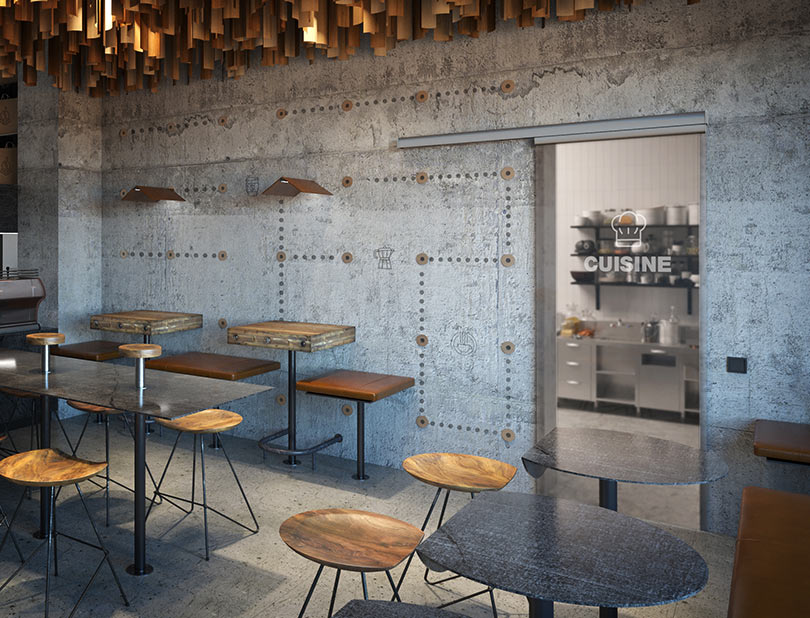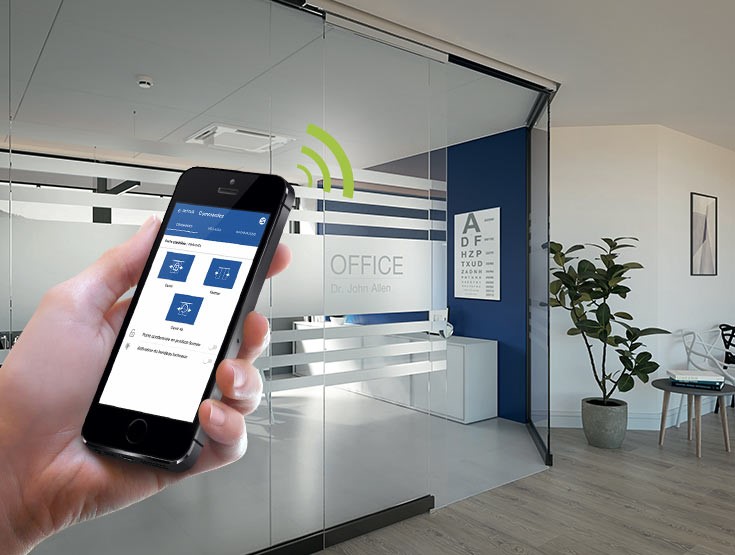 THE APP MOVENTIV® 80
THE IDEAL PARTNER FOR YOUR SLIDING DOOR
The motorization is connected 3.0 thanks to the smartphone app developed in-house. MOVENTIV® 80 makes controlling your door a breeze. Its app uses Bluetooth to operate the door at the touch of a screen. And you save time on commissioning too! Easy to use as easy to install…
> Discover the app
HARMONIOUS BLEND OF TECHNOLOGY
MOVENTIV® 80, this integrated, automated system is specifically designed to operate interior sliding doors often used in places such as offices, hospitals, hotels, homes and other types of buildings.
MOVENTIV® 80 is equipped with a new generation magnetic field-driven motor and take out the part about contactless, which eliminates the need for transmission parts such as speed reducers and belts. The electronic part is fully incorporated into the sets delivered.
As discreet as it is efficient, the MOVENTIV® motor is fully incorporated into its profile. Its timeless design and compact size make MOVENTIV® a must-have product for all your projects that involve automated room dividers.
Whatever the weight of the door (<80kg), the MOVENTIV® 80 automatic system guarantees a smooth and safe closing for people.
The closing speed never exceeds 0.15m/s which ensures low energy movement as defined by the EN16005 standard: Motorized pedestrian doors – Safety in use.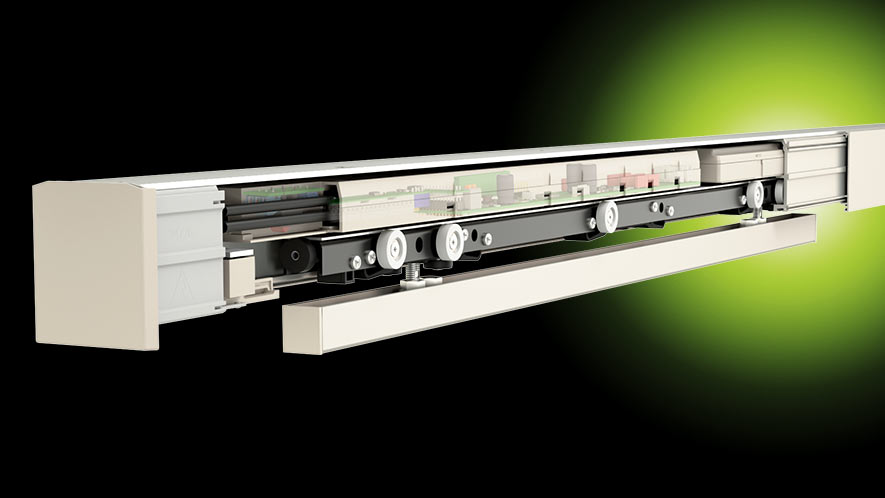 WHAT IS L2M TECHNOLOGY?
Mantion Linear Motor®
Mantion Linear Motor® technology offers our customers a high-performance automation system for operating wood or glass sliding doors. The fixed part (the stator) is made up of coils, and the mobile part (the carrier) is equipped with magnets. The constant electromagnetic interaction between the two enables the door's sliding motion. The linear motor does not require roller frames, bearings, brushes or speed reducers, making it a compact, reliable and silent solution.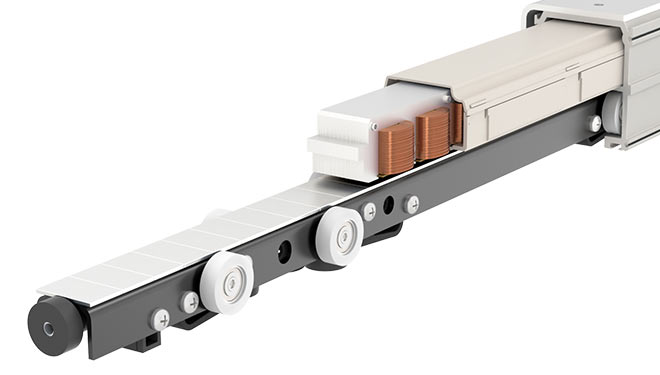 KNOW-HOW
Design and development by MANTION R&D. MOVENTIV® 80 is assembled by our Genlis subsidiary, which is specialized in designing high-end motors.
ULTRA-EFFICIENT
As the drive is direct and without transmission elements, the MOVENTIV® is guaranteed for 500,000 cycles or 5 years.
ULTRA-SILENT
The contactless magnetic field drive eliminates any mechanical noises which conventional rotating motors can generate. Enjoy unrivalled, silent operation!
TOUCHLESS
MOVENTIV® provides touchless operation of glass or wood doors weighing up to 80 kg. It is ideal for staying safe and reducing the risk of contamination.
CLEAN DESIGN
As compact as it is powerful, the MOVENTIV® motorization is integrated into the profile.
EASY TO INSTALL
The system is fully assembled in MANTION's factory and delivered as a ready-to-install product.
Mount the system, connect it to the main power supply and commission it using your smartphone (Plug and Play). You couldn't save more time if you tried!
The various possible assemblies allow you to give free rein to your imagination.
Installation and commissioning are simplified by the application: you can adjust the speed of your motorization, change the opening/closing delay, activate the LED panel, change the terminal block assignment, launch a learning process for the stops…
The switch settings and the multiple connections allow you to configure the system according to your wishes.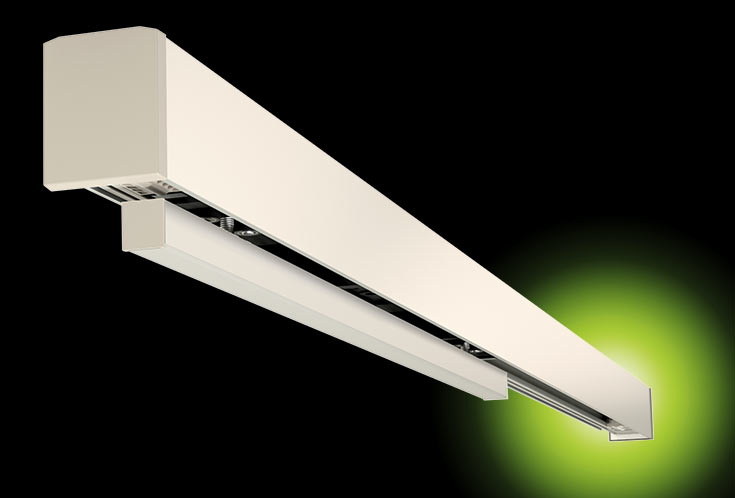 POSSIBLE MOUNTING OPTIONS
MOVENTIV® 80 can be wall ceiling-mounted, whatever the requirements. You can also decide to use it with or without a door jamb (a vertical jamb is more pleasing to the eye and shuts the light out more effectively for wood doors).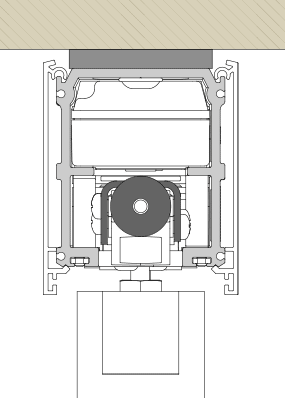 ceiling-mounted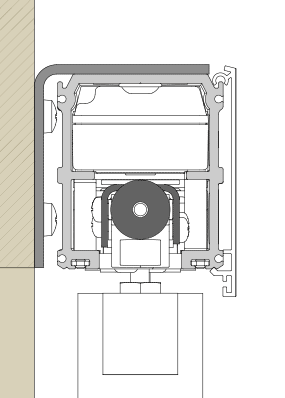 wall-mounted
recessed
DIFFERENT POSSIBLE CONFIGURATIONS
MOVENTIV® is the ideal solution for automating doors that weight between 20-80 kg. The standard MOVENTIV® 80 is available in 4 models: for doors with a maximum width of 830 mm, 930 mm, 1030 mm or 1130 mm.
Our system has been designed to adapt to any interior sliding door made of wood (40-45 mm) or glass (8-10 mm). It's very compact size and anodised aluminium finish make it a discreet addition to any interior.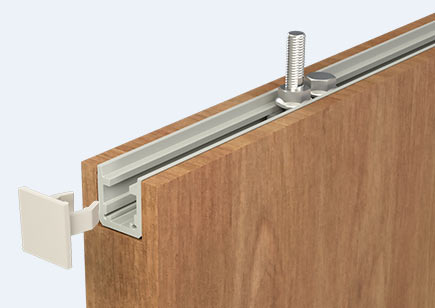 WOODEN DOOR
40 – 45 mm
> Discover the range
GLASS DOOR
8 – 10 mm
> Discover the range
In summary
Door from 20 to 80 kg
Available widths: 830 – 930 – 1030 and 1130mm
Wooden or glass door
Mounting options: ceiling, wall or recessed
With or without tapping
Switch settings
Multiple connections
BENEFITS OF THE APP
Simplified configuration thanks to Plug and Play
Connect your MOVENTIV® to the mains and configure it from your phone via Bluetooth. It's delete highlighted and just use effortless!
EASY TO USE
MOVENTIV® is a connected automation 3.0, which simplifies the remote control of your sliding door. Its smartphone application allows you to control, via Bluetooth, the opening and closing of your door and much more…
Its smart system and its wide range of accessories (button, radar, smartphone application, LED strip) allow a personalized setting of your door.
MOVENTIV® allows safe daily use, the system is prepared for all contingencies: the radar with obstacle detection prevents untimely closing, the Push&Go function allows the door to be opened by pushing it in the direction of opening, locking in the permanent open position in the event of heavy traffic, activation of the mechanism in the direction of exit only, manual opening possible when the power is off, your door remains functional even in the event of a power failure.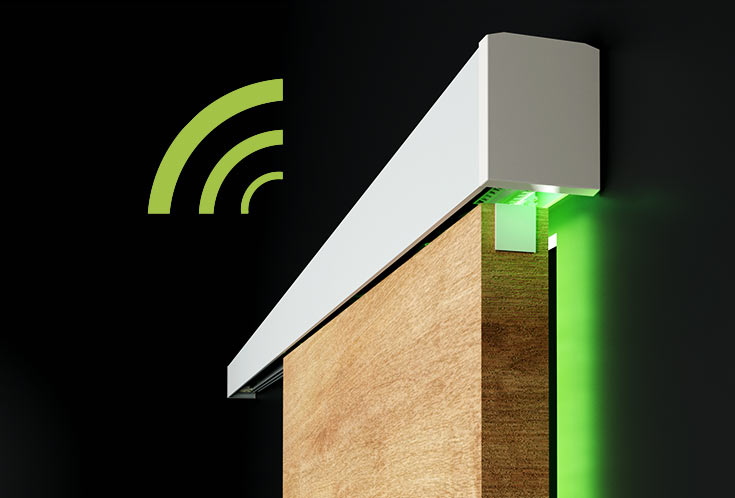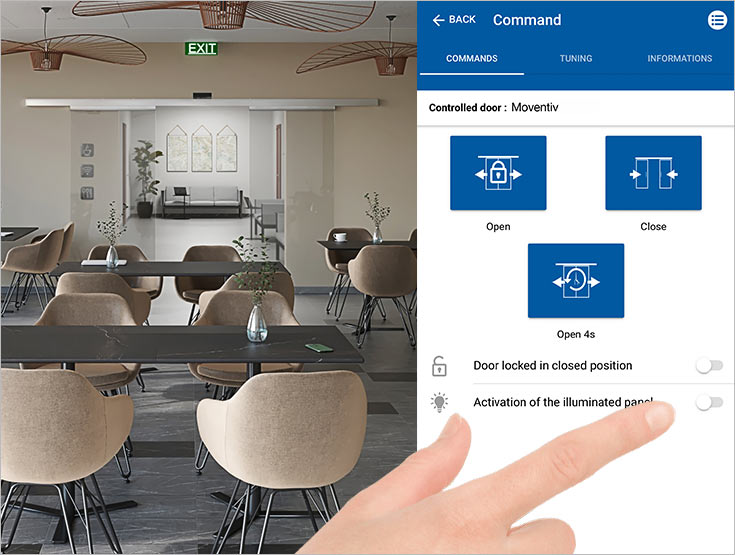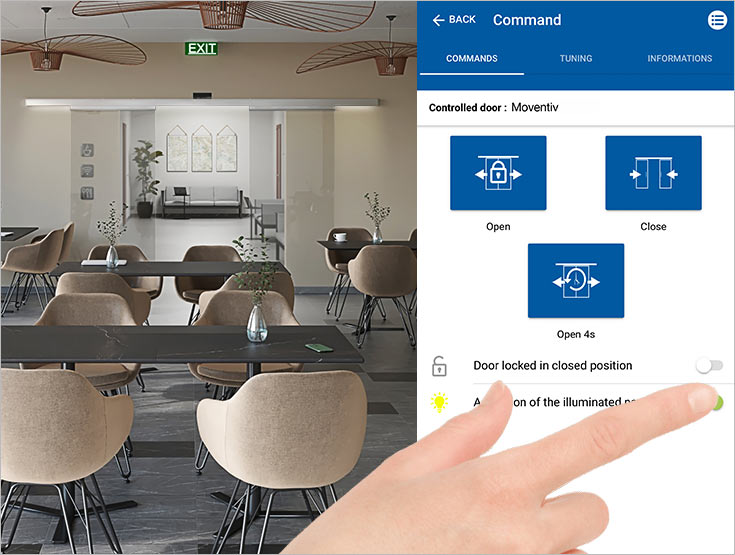 BENEFITS OF THE APP
Your daily companion
Your smartphone is your remote control.
But the application goes even further!
Opening and closing control
Locking the door
Management of opening and closing speeds
Control accessories can be set per side
Activation of the LED strip
> Discover the app
In addition to the application, the MOVENTIV® has a large number of accessories, for a tailor-made management, based on your constraints and your specific needs. The technology used provides several connection options: radars, switches, LED strips, magnetic locks, etc. You will inevitably find a combination of accessories to taylor to your individual use.
CONTROL ACCESSORIES
BARRAGE CELL
Miniature barrier cell for passage detection
MOTION SENSOR
Automatic opening in case of passage
RADAR WITH OBJECT DETECTION
Automatic opening in case of passage and presence of object and/or person
RADIO SWITCH
Ideal for renovation, no wire to pull
PUSH SWITCH
Wired switch
1 pushbutton
TOUCHLESS SWITCH
Wired switch allows for touchless use.
Ideal for protection against COVID
COURTESY ACCESSORY
LED TAPE Lights up when the door is in motion and/or with the application.
LOCKING ACCESSORIES
VENTOUSES Surface mounted or recessed. Holding force from 60 to 180kg
THE MOVENTIV® APPLICATION
The application will allow you to seamlessly manage your MOVENTIV® locking system daily.
EASY TO CARE FOR
The direct and contactless drive system removes the need for transmission parts (belts, gears, etc.), providing exceptional reliability through significantly less mechanical wear.
The product is guaranteed for 500,000 cycles or 5 years – a long-term warranty that provides you with peace of mind.
The smartphone application will provide you with all the essential information to facilitate maintenance.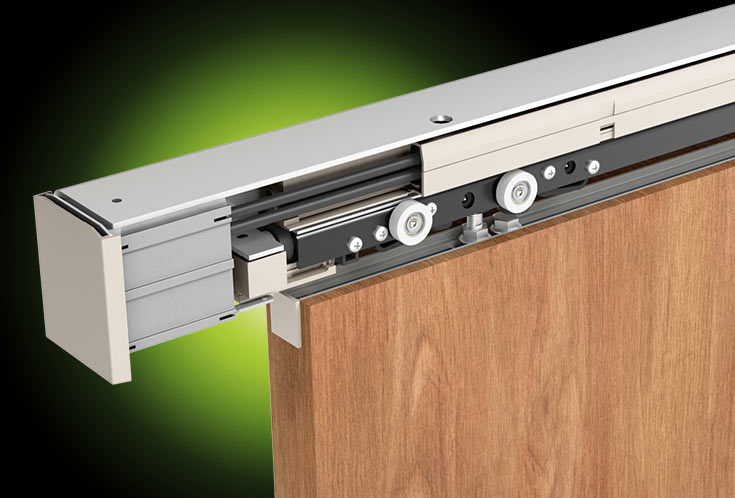 NO TRANSMISSION ELEMENTS
No belts or gears… reducing mechanical wear
NO FRICTION
The magnetic field ensures contact-free movement
HIGH PERFORMANCE
Up to 100 cycles/hr and 500,000 maintenance-free cycles guaranteed
EXCEPTIONAL RELIABILITY
MOVENTIV® technology dramatically reduces maintenance
BENEFITS OF THE APP
All the information you need to simplify maintenance
You can know the position of the switches, know the number of cycles since the commissioning, set your input type (radar or button)…
TECHNICAL INFORMATION
HOW TO GET THE PRODUCT?
Are you interested in the MOVENTIV® 80 and want to know more? Nothing could be easier!

Contact one of our technical sales representatives

Leave us a message via our Contact Form:

Go to a MANTION distributor near you
TECHNICAL INFORMATION
General information
Designation: Automatic system for sliding doors
Dimensions of the support profile (WxH): 53 x 63mm
The length depends on the width of the door
Motorisation: Magnetic Linear – Contactless drive
Maximum door speed: 60cm/s
Door dimensions: 830 • 930 • 1030 and 1130mm / Track length: 1760 • 2360mm
Door weight: 20 – 80kg
Electric
Supply voltage: 110/230 V AC • 50/60 Hz
Protection: Internal fuse 4AT
Max. power consumption: 65W
Environment
Protection class: IP20
Silent: < 55dB when opening • < 45dB when closing
Temperature range: +5° < T < +40°
Normative conformity / Directive
Safety in use: EN60335-1 – EN60335-2
Electromagnetic compatibility: EN61000-6-1 – EN61000-6-2 – EN61000-6-3 – EN61000-6-4
Directive :
• 2011/65/UE: ROHS
• 2014/35/EU: Low voltage
• 2004/108/EC: Electromagnetic Compatibility (EMC)
Connection options / Control
Connectivity: Radio 433 MHz – Bluetooth low energy 4.2 +
Wired control: Push button – Radar
Lighting output: Controlled by the opening command
Lock output: Allows the connection of a lock (24V, 1A Max)
Security: Possibility of connecting a security input such as a barrier cell
MANTION has been investing in automatic controls for doors and windows, in a direct progression from our original products. Considering this a strategic area of development, we chose to develop and manufacture our own automatic control products in our subsidiary Mantion SMT based in Genlis in the Côte d'Or region of France. After pioneering the use of automatic controls for sliding shutters and then becoming the benchmark on the market for automatic controls for swing shutters, today we are able to bring you the most reliable, easy-to-use automatic control for sliding doors available on the market.
The fruit of several years of development and testing, we are proud to bring you a solution that is silent, simple to install and use, long-lasting, safe and discreet. Featuring the latest digital – and technical – technologies, our MOVENTIV automation system is ready to equip and operate, elegantly and discreetly, whichever superb glass or timber door you have chosen.
As for most of the Mantion group's products, beyond its purely technical qualities, the MOVENTIV automatic control system brings you the values of an ethical company that proudly flies the "made in France" flag and brings that unmistakable French touch.
Equip your sliding doors with a MANTION automatic system. MOVENTIV® 80 is now available for purchase.
Are you sure you want to remove this item from your basket?